Topic: Auguse EraAio for DotMod dotAIO - Single Coil DotAIO RBA Tank w/ Mult-

Today we are introducing a Dotmod DotAIO accessories for you, the Auguse EraAio for DotAIO, this EraAIO RBA Bridge Tank for DotAIO is made by Auguse, who is reaching for ideas from high-end manufacturers, but also reworking them. The DotAIO EraAIO is their first AIO tank, the liquid supply is one-on-one as it is for the Wick'd Link'd .
The Auguse EraAio Era Aio RBA Rebuildable Tank is suitable for DotMod dotAIO Pod System. Comes with 6 PCS air pins 0.8 / 1.0 / 1.2 / 1.5 / 1.8 / 2.0mm. The RBA is single coil deck and simple structure for easy to build. The air intake can be adjustable without removing the heating wire. The heating wire can be replaced as there is oil in the tank.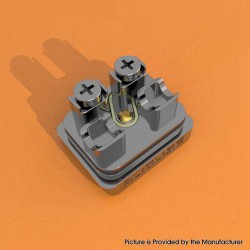 Features:
Single coil deck
Simple structure, Easy to build
Comes with anti-condensation and anti-explosion oil function
Air intake can be adjustable without removing the heating wire
The heating wire can be replaced as there is oil in the tank
Air pin size: 0.8 / 1.0 / 1.2 / 1.5 / 1.8 / 2.0mm
More details for Auguse EraAIO, please check >> https://www.3fvape.com/52405-auguse-eraaio.html