Topic: Latest 4000mAh SMOK Stick V9 Max Kit Preview
Hey guys. Has the Smok Stick V8 Kit ever caught your hearts? If yes, then the latest pen vape kit I'm gonna bring will surely surprise you again. The new kit is named Stick V9 Max, as the name shows, it's a new upgraded version of Stick V8 series. Ok, let's dive down for more information.
Smok Stick V9 Max Kit consists of built-in 4000mAh battery and Stick V9 Max tank, it is the latest pen-style vape with the largest battery capacity to date, the eye-catching outlook and excellent performance make it stand out among stick series. The unprecedented built-in 4000mAh battery will provide you with powerful and durable vaping experiences. With its large capacity, you can enjoy a longtime vaping; whats more, it will bring you a massive cloud of vapor. There is also an LED indicator to tell you the accurate conditions of itself. If pressing the Power Button twice in a row within one second, youll see the current battery power status. And three kinds of indicator colors on the lower part of the pentagon represent various battery levels. For instance, Green Light: above 70% battery power remaining, Orange Light: 30%-70% battery power remaining, and Red Light: below 30% battery power remaining. Besides, the LED indicator will flash 15 times when the voltage is lower than 3.3V.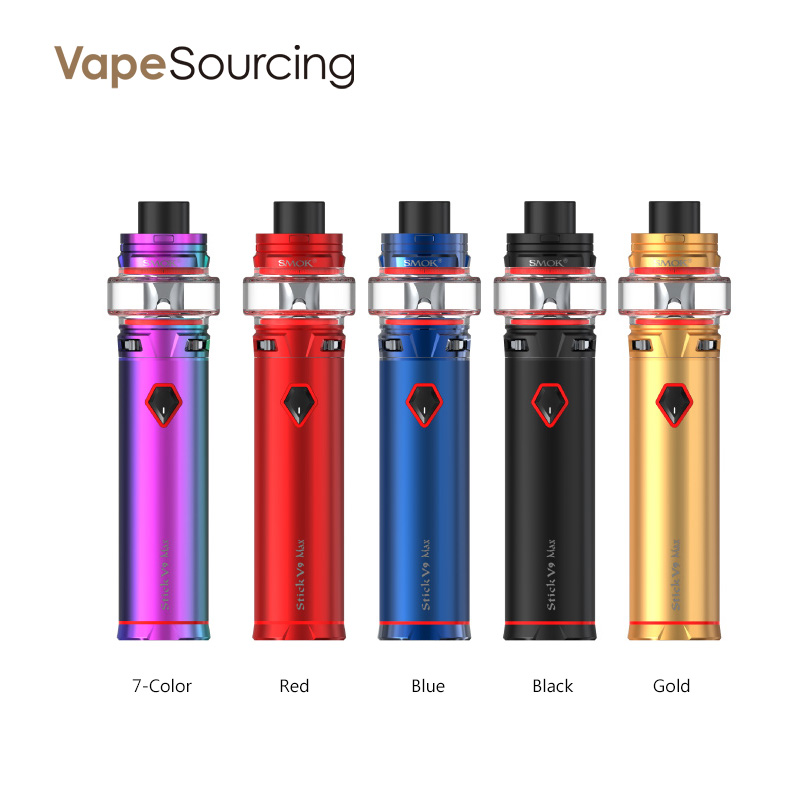 As for the tank, it is the largest one ever designed by SMOK. Comes with a gigantic e-juice capacity of 8.5ml, its specially designed for Stick V9 Max. By adopting the custom-made Mini V2 S1 coil and Mini V2 S2 coil, it works at lower wattage but with intense clouds and flavor; Mini V2 S1 coil has mesh inside making a good balance of cloud and flavor, Mini V2 S2 coil has more restricted airflow, and it processes longer lifespan due to extra direct wicking channels. The specially made drip tip has a perfect diameter to fit your mouth, and it doesnt need to screw, only with simply press you can finish the install work. Without a doubt, it will bring increased airflow and provide more powerful draw effects. Holding Stick V9 Max in the hand, youre just the one who can conquer the giant!
Wanna try it? Buy from the online vape shops now.